Five benefits of exercise for your children
Exercise and SMART KIDS… are they related?
Hello there Mums, Dads, Grandmas & Grandpas, Aunties & Uncles.
Welcome to the world of parenting! ?
It's been an eventful two months where we Malaysians & the rest of the world, changed our lifestyle drastically to contain a teeny weeny virus called the Covid-19!
School lessons are now in front of the computer or a tablet, and physical activity may well be just walking from the living room to the kitchen, the bathroom and …! ?
As parents, it is only expected that all of us aspire to have bright kids. We dream of them entering universities when they grow up, have successful careers, happy lives & so it goes on.
How do we do this? Easy enough? Hard work?
Well, the GOOD NEWS is!
Something simple, free of charge & wonderfully enjoyable….
●EXERCISE
●MOVEMENT
●PHYSICAL ACTIVITY
●OUTDOOR PLAY (WHERE POSSIBLE)
HOW DOES EXERCISE HELP?
INCREASES ENERGY
The more you move, the more energized you would feel. Regular physical activity boosts one's endurance, making the child think clearer & come up with new ideas. This enhances creativity in children & enables them to be able to think "out of the box."
SHARPEN FOCUS
Exercise helps the child absorb better what is being taught. He or she is also better at observing & appreciating the world around him or her & enabled them to store this information for future use.
ENHANCE MOOD
Exercise releases endorphins, also known as nature's mood elevator, which improves memory. It also releases another chemical called serotonin, which is another mood enhancer. In the end, we have a happier child!
HELPS IMPULSE CONTROL
Exercise triggers endorphins, which improve the prioritising functions of the brains. After an activity, the child can better block out distractions & concentrate on the task at hand.
IMPROVE MEMORY
Your brain remembers more when your body is active. Learning is thereby enhanced.
INCREASES PRODUCTIVITY
After exercising, studies have shown that people are more likely to be kinder to their friends. Indirectly increasing their school performance, especially when the environment in the class is positive & harmonious.
So until our daily activities "normalise," the new norm suggests that we must ensure our children keep active both physically and mentally. Although the outside play may well still be somewhat restricted, do make sure that your little ones get enough movement & sunlight for their daily Vitamin D requirement.
In CONCLUSION: ◊ A HAPPY SMART CHILD IS AN ACTIVE CHILD ◊
Article by DR KHOO PHAIK CHOO
Pediatrician & Mother❤️
Related Articles:
https://drjoannchildspecialist.com/fruit-juice-for-children/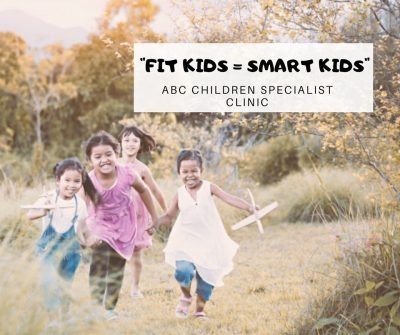 LEARN MORE
INTERESTED IN PARENTING ARTICLES?
We have the right articles just for you.
"There is no such thing as a perfect parent. So just be a real one." – Sue Atkins
LEARN MORE